Archive for the 'Sarsaparilla' Category
I reviewed Old Town's root beer a while back, and remember liking it quite a bit, even if it was a pretty bland presentation in the bottle.  The sarsparilla they've produced (interestingly spelled "Sarsparilla" instead of the traditional "Sarsaparilla") isn't quite as nice, though it is an enjoyable beverage.  In the first sip, it has a nice bit to it, with an enjoyable amount of carbonation and flavor hitting you right away.  The flavor is fairly mild and smooth and is heavy on the vanilla cream side.  In fact, this sarsaparilla almost reminds me of a cream soda more than other sarsaparillas that I've had.  Overall, not bad, but not great.  I think they're out of business anyway, so it's kind of a moot point…
Monthly Root Beer Rating:
6
I really don't know what's going on in Maine, but EVERY root beer I've had from there lately has been fantastic.  As I mentioned in my Cap'n Eli's review, a friend of mine sent me some local Maine brews, and sent me this Sarsaparilla along with their Root Beer.  To me, Sarsaparilla has always been kind of like Root Beer's weaker more effeminate cousin.  You know, the one who you were forced to hang out with, and secretly thought was OK, but really didn't want to admit you were related to?
Anyway, I digress.  This beverage was pretty good, and better than most root beers that I've had, although it just doesn't have as much flavor.  Their root beer is a whopper though, and a review is coming soon.  I really like the company, and it seems that they have their head on straight when it comes to natural ingredients and fairly acquired materials.  I'm always willing to pay more for quality and care, and will always support companies like Maine Root who understand that.
Now, if they only sponsored runners who blog about running and drinking root beer…I'm talking to you Maine Root!!!
www.maineroot.com
Monthly Root Beer Rating:
7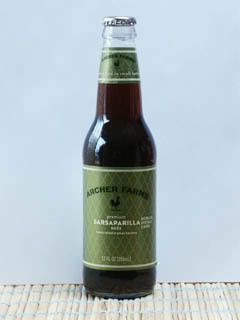 This soda is available exclusively at Target and is actually not bad.  It's not agressive with flavor, but instead of blending roots, it relies exclusively on sarsaparilla root.  It's smooth and lightly carbonated and goes down easy.  Made with cane sugar, and perhaps a little sweet for my tastes.  My 10 year old liked it!  Not something I'd have around the house all the time, but worth a taste every once in a while.
Monthly Root Beer Rating: 6